Music to read by:
This is the dawning of the Age of Austerity
The Age of Austerity, Austerity, Austerity
Austerity, Austerity, Austerity
I think that, somewhere over the Atlantic, the definition of "austerity" was lost in translation for "austerity" in Europe does not mean what Americans think it means.
Portugal:
A €2.2 billion stimulus package 2009, 1.25% of GDP, resulted in economic growth that stayed negative and 3 million more unemployed Portuguese workers. The country's finance minister told the New York Times,
"it didn't turn things around, and may have made things worse."
France:
In France, "austerity" almost entirely meant tax increases:
A 3% surtax on incomes above €500,000.
A 1% increase in the top marginal income tax rate (40% to 41%).
The automatic indexation of tax brackets for inheritance, wealth, and income taxes ended.
Corporate taxes were raised 5% on businesses with revenues of more than €250 million.
There was a hike in the capital gains tax rate. (Currently, capital gains are taxed at the rate of 19%, plus 13.5% social charges. The social charges will increase to 15.5% on 1 July 2012, giving a total rate of 34.5%).
Several corporate tax breaks were ended.
The VAT increased from 19.2% to 21.2% and reduced VAT went from 5.5% to 7%.
Excise taxes on tobacco and alcohol were hiked.
There were some reforms to entitlements and welfare programmes, but they haven't yet taken effect. For example, France raised its retirement age from 60 to 62.....but that reform will not take effect until 2017. Also, the cap on government spending on healthcare doesn't take effect until next year.
It is kind of hard to blame cuts that haven't taken effect for France's slowing growth while ignoring tax increases that have.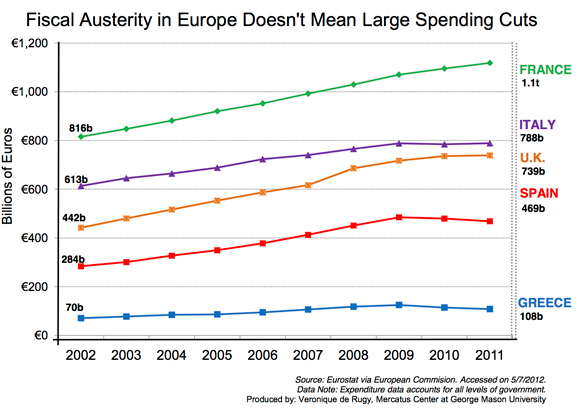 Britain:
One of the first "austerity" measures taken by the Cameron-led coalition was the imposition of a 50% income tax on the "evil rich." This hike resulted in a
£509 million decrease in tax revenues to the Treasury.
The Coalition did trim some government payrolls and cut back on a few government programmes, but government spending still consumes a whopping 49% of GDP.
Most importantly, actual government spending increased by
£59.2 billion from 2009 to 2011.
Spain:
Imposed a wealth tax on citizens with €700,000 of assets.
Imposed 7% income tax on those earning more than €300,000 per year.
Hiked the capital-gains tax rate.
Italy:
Imposed a Solidarity Tax of 3% on all taxpayers earning more than €300,000.
Greece:
Increased taxes nearly twice as much as it cut spending.
5% surtax on the wealthy.
VAT hiked to 23%.
Fuel, alcohol, and tobacco taxes were hiked.
As Michael Tanner of CATO has said, "It should come as no surprise that all those new taxes, combined with a lack of spending restraint, has threatened to throw Europe back into a double-dip recession. Is it any wonder that French, Greek, and British voters were anxious to "throw the bums out"? Wait, this sounds familiar. Tax hikes on the rich accompanied by vague promises of future spending restraint, while refusing to restructure entitlement programs. That sounds a lot like . . . Barack Obama. Maybe the U.S. can learn something from Europe after all."
Too bad that Obama is too stubborn and ignorant to heed the lessons of "austerity" in Europe.
Below is the OECD data, as is clearly apparent, no country is spending below its 2004 level.
‌

Government final consumption expenditure in US dollars

‌

At current prices and current PPPs

‌

Billions of US dollars



‌

‌‌

‌2004‌

‌2005‌

‌2006‌

‌2007‌

‌2008‌

‌2009‌

‌2010‌

‌2011‌

‌
‌
‌
‌
‌
‌
‌
‌
‌
‌
‌
‌
‌
‌
‌
‌
‌
‌
‌
‌
‌
‌
‌
‌
‌
‌
‌
‌
‌
‌
‌
‌
‌
‌
‌
‌




Last updated:

14 March 2012



..

The statistical data for Israel are supplied by and under the responsibility of the relevant Israeli authorities. The use of such data by the OECD is without prejudice to the status of the Golan Heights, East Jerusalem and Israeli settlements in the West Bank under the terms of international law.

Source:

Annual national accounts: Gross domestic product, OECD National Accounts

Statistics (database)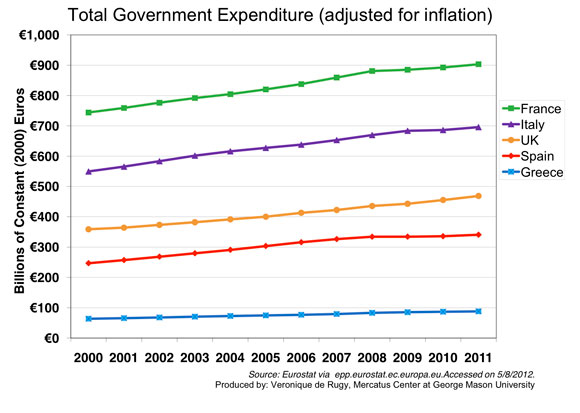 Aquarius lyrics
Songwriters: Gerome Ragni;James Rado;Galt Mac Dermot

When the moon is in the seventh house
And Jupiter aligns with Mars
Then peace will guide the planets
And love will steer the stars

This is the dawning of the age of Aquarius
The age of Aquarius, Aquarius, Aquarius

Harmony and understanding
Sympathy and trust abounding
No more falsehoods or derisions

Golden living dreams of visions
Mystic crystal revelation
And the minds true liberation

Aquarius, Aquarius

When the moon is in the seventh house
And Jupiter aligns with Mars
Then peace will guide the planets
And love will steer the stars

This is the dawning of the age of Aquarius
The age of Aquarius, Aquarius, Aquarius
Aquarius, Aquarius, Aquarius