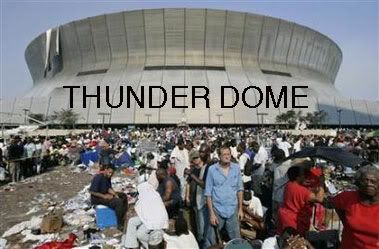 You know, if I wanted to guarantee not only a cultural clash, but a full-on, hot cultural war, there's really no place better to put a bunch of single, military age 'Syrian refugees' than The City That CARE Forgot, New Orleans.

Laissez les bon temps rouler, Allahu Akbar, y'all!
You've got the French Quarter where Pride was kewl when straight little girls in the Castro District still assumed that rainbow flags went with her My Little Pony; celebrations and festivals of public drunkenness, lewd behaviour and the LBNTT (Little Black Nipple Tassles & Thong); Mardi 'Show Me Your Tits!' Gras; etc. Then, you have drive-thru alcoholic beverage establishments; Catholic Churches, schools, fairs, monuments, buildings, and streets galore; a vibrant Jewish community; gambling; a pro team named 'The Saints' and official holidays for All Saints Day and Ash Wednesday.
If that wasn't enough, you have a very poor and government-dependent minority majority population. Approximately 65% of the city is African-American and a vast majority of them are on public assistance. Not only are dey all ways tayrd, deys ain't no ways up to sharing any of Obama's Stash or the political power that they've accumulated over the last five decades with some Muslim 'refugees' from a place they couldn't find on the globe...and that's not meant to be a racist statement. I mean 1 in 7 Americans cannot find the United States on a world map, 37% have no idea where Iraq is and a majority of our 'educated' snowflakes cannot find the State of New York on a map...even when New York City is identified.
If you think the woman, who was standing in hip-deep water screaming for someone to come 'Save me! Save me!' during Katrina when there was a dry porch not 25 feet away from her in the background is going to lay out the welcome mat to Mo from Mayadin, then I can get some prime Katrina-era Superdome stadium seating for you at reasonable prices (I'll have to check with my supplier, Axe, but I think maybe one or two seats managed to survive intact with minimum urine, feces, and vomit stains and only a couple of cigarette burns).
Further, all of this doesn't even take into account 'territory'. The Syrians are going to find it difficult to establish themselves, especially if they plan on engaging in illicit activities. And, they won't find the cops to be much of a help. Although I've heard they are a lot better than they used to be, it does say something about the NOPD that it managed to put two of its own on Death Row back in the 90s.
And, of course, who isn't armed? From sportsmen, businessmen, homeowners, people who live and/or work in dangerous areas (which is almost anywhere since you can travel down one of the main avenues admiring multi-million dollar mansions, make a turn, travel a couple of blocks, and land right in front of the ObamaForAmerica and #BlackLivesMatter office where some protesters are screaming about 'REPARATIONS!' and for 'WHITE PEOPLE, GO HOME!'), criminals, and gangbangers.
So, yeah, if you wanted to start a real, hot culture war, dumping a bunch of young Muslim men from one war zone into another would probably do it.
Walter L. Newton mentioned that the numbers of Syrians that have apparently been dumped in the Crescent City have been greatly inflated and that is most probably 100% true, but you do have to admit that the possible Thunderdome ramifications of dumping 10,000 mostly young, male Muslims from one war zone into another are both amusing on a macabre level and present loads of literary opportunities.
It's not like it's only the Syrian 'refugees' that are unwanted guests. If you will recall, Houston couldn't wait to get rid of their New Orleans Katrina refugees, who also brought with them their local 'customs and traditions.'
Exit Question: Who blows up the levees first?
Hey, maybe, Phil Robertson can play Moses and stand atop the Superdome with staff in hand and intone: 'Let my people go!'
Then, our resident screenwriter, Jacks, made an appearance and I had to mention the possibility of her doing a treatment.
Hiya, Jacks!
Hope all is well.
I
was thinking of what you could do with:
Super Thunderdome: Murder, Mayhem, and Martyrdom in the Confederacy of Dunces.
10,000 Muslims confront 380,000 drunks, strippers, gays, gangbangers, layabouts, drag queens, drug dealers, Catholics, arsenal owners, and work-to-players in The Big Easy.
She replied...
Good evening, Bishbop. It's a pleasure to see you.
lol! If Obama and his pals have their way that first 10,000 will be a drop in the bucket. The idea is to hand them green cards, split them into groups, and settle them in smaller cities and town across the nation as quickly as possible, similarly to the 'unaccompanied children' from Central and South America who crashed the border.
I don't think they'd get a chance to enjoy Mardi Gras or eat etouffee before they were flown out for resettlement…
…but I'd walk to New Orleans if I had to just to be there to see it if they did.
- thatsafactjack on November 15, 2015 at 11:54 PM
In Sweden, Planners have routed the Gay Pride Parade to snake through a very Muslim neighbourhood. Teh Gheys flung poop at the Kalashnikov-toting members of a 7th century death cult.
What began as a simple going-away party in 1972 has evolved into one of New Orleans' premier annual events: Southern Decadence.

Held annually over Labor Day weekend, this celebration of LGBT culture attracts over 180,000 participants from all over the world.
Nicknamed the "Gay Mardi Gras," Southern Decadence is one of those quintessential New Orleans occasions in which participants get to strut their stuff in elaborate costumes and high fashion or barely anything at all!
Everyone gets in on the action and all the bars will have their own drag shows, contests, DJs, music and events.
Grab a costume, wander around the French Quarter, take a Gay Walking Tour, and visit one of the city's gay bars. Some years also include an outdoor concert near Bourbon and St. Ann streets.
Starting at the Golden Lantern bar, the Grand Marshal leads the marchers and their floats through French Quarter streets to the delight of appreciative crowds all along the parade route. Former Grand Marshals have included Bianca Del Rio, Lisa Beaumann, and Tami Tarmac. Weekend themes have included "Decadence Does Disco", "Leather & Feathers", and "Jazz & Jezebels".
As Liberace once said, "Too much of a good thing is wonderful."
I think that they'd just love it!!!/
lol! We should be sure their informed that it's an orientation tour and this area is representative of the nation's strict sense of modesty and decorum.
- thatsafactjack on November 16, 2015 at 12:20 AM
Absolutely. And, we should absolutely provide them with written flyers in their native languages instructing them that the men in black leather with the assless chaps are the American version of the Islamic Vice and Virtue Police.
Also, we might want to provide them with the lyrics to Macho Man and the physical movements that accompany YMCA so that they will not feel left out when the Village People Tribute Band takes the stage.
Oh, and they should be told that all proud Citizens of the World, who hate American imperialism, colonialism, capitalism, and militarism never wave the American flag. They show their pride by waving the Rainbow flag and attaching similar decals to their cars and home windows.
Bishbop, so evil, in a good way :)
Good that you're back.
- Schadenfreude on November 16, 2015 at 1:06 AM