M2RB: Aerosmith
She had to take him down easy and put a bullet in his brain
She said 'cause nobody believes me. The man was such a sleeze.
He ain't never gonna be the same.
ID for voting? Raaaaacist! Waiting period for an abortion? Sexist! Ban on illegal immigration? Xenophobe! But, on guns? ID, waiting periods, bans, permits, etc, are all perfectly acceptable.
"NRA is as irrelevant as the Tea Party these days."
- Troll



Why don't you test drive that theory in the next election? Get yourself your very own version of a Grover Norquist and make your candidates sign pledges to ban guns. Primary Democrats that won't sign. See how well you do.

Just remember a few things:

1. You lost both Heller and McDonald and even Chuck Schumer has this message for you:
"The Left needs to admit that Americans have a Second Amendment right to bear arms."
2. There are somewhere between 200 and 300 million guns in the US. Not all gun owners are Republicans or "tea baggers." In fact, the two original plaintiffs,

Shelley Parker and Otis McDonald

, in the most significant 2nd Amendment cases in decades were urban African-Americans and the NRA, specifically, declined to get involved in either case.
3. The murder rate is at the lowest it has been

IN DECADES

and has been since the expiration of the AWB and proliferation of CCW.
"Although I voted for the ban on certain kinds of semiautomatic weapons in 1994, I have come to believe that it is a largely arbitrary and symbolic measure. Citizens see it as a first step towards confiscating their firearms."

- Senator Russ Feingold, floor of the US Senate before voting against the renewal of the AWB, 2 March 2004

Remember when you on the Progressive Left were thinking about drafting Feingold to primary Obama? Even he thinks the AWB was worthless.
Further, only

35 out of 142 weapons

used in mass shootings since 1982 in America have been assault weapons.
6. In 1993, 57% of Americans favoured gun control laws.

By 2010, opinion polls consistently showed that more Americans placed greater importance on protecting the rights of gun owners (49%) than on restricting gun ownership in any way (45%). With Independents, 38% supported gun rights in 1993; now, 55% do.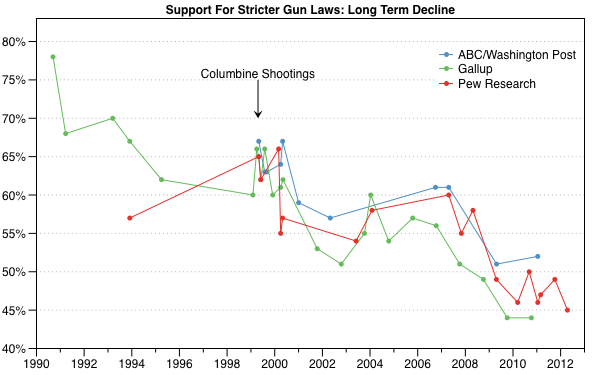 In 1993, only 18% of African- Americans supported gun rights; now, 35% do. A poll after Gabby Giffords was shot in the head showed that 65% of Americans opposed a ban on handguns.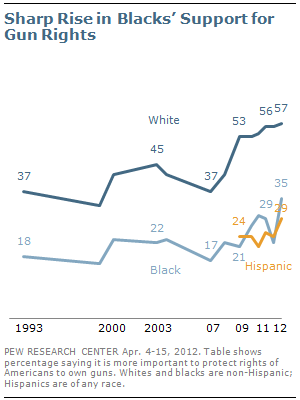 Americans' support for stricter gun control laws has gradually declined over the last two decades, from 78% when this question was first asked in 1990 to 49% in 2008, and 44% in 2009 and again this year,"

Gallup reported in 2010 survey results

. Said the organisation

in 2011

:
"A record-low 26% of Americans favor a legal ban on the possession of handguns in the United States other than by police and other authorized people. When Gallup first asked Americans this question in 1959, 60% favored banning handguns. But since 1975, the majority of Americans have opposed such a measure, with opposition around 70% in recent years."
So, you run candidates that want to ban guns and take on the NRA. In 2016, make sure to take on Harry Reid, who got a grade of "B" from the NRA.
More evidence that

2012 is NOT 1994

:
A spike in gun sales across the country started with President Barack Obama's reelection. Observers note that may be associated with the traditionally contentious relationship the Democratic Party has with the gun rights lobby. (Read more:

Gun Sales Surge: An Obama Bounce?

) Some Second Amendment advocates fear the Connecticut tragedy will provide more impetus to efforts to restrict gun ownership.
But the National Rifle Association said on Tuesday it is "prepared to offer meaningful contributions" to help prevent future mass shootings.
"The National Rifle Association of America is made up of four million moms and dads, sons and daughters — and we were shocked, saddened and heartbroken by the news of the horrific and senseless murders in Newtown," the organization said in a statement.
In places like Colorado, Texas, Ohio and Oregon, local reports have noted a surge in gun purchases occurring immediately after the Sandy Hook tragedy. (Read more:

Why Gun Sales Often Rise After Mass Shootings

.)
The Sandy shooting has "created a national shortage" of firearms and ammo, one Texas gun shop owner told CNBC, who asked not to be identified for fear of a backlash. "All of our suppliers are almost sold out of items across the board."
The person added that he expects gun sales in his establishment to see anywhere between 200 and 400 percent. "At a minimum we'll double our sales from last year," he added.
A representative for Colorado's Bureau of Investigation's (CBI) InstaCheck Unit told CNBC that firearms background check requests was in the throes of "record setting volume." The day following the Sandy Hook shooting the CBI received a one-day total of 4,154 requests — a new historical peak.
Although numbers for Monday weren't readily available, Susan Medina, a CBI spokesperson, said that the day's numbers of submitted background checks "continued to be elevated," creating a sizable backlog that the organization is struggling to keep pace with.
The CBI "is working extremely hard to clear the previous day's queue to then launching to the current day's checks," Medina told CNBC in an emailed statement.
The National Instant Criminal Background Check System run by the Federal Bureau of Investigation – which oversees the impromptu investigations required for gun buyers – also saw similar volume to InstaCheck, the CBI stated.
According to NCIS data, almost 17 million firearms related background checks have been run this year as of Nov. 30.
**************************************

"But it's obvious that we need to control the possession and use of deadly weapons better than we are now. It's coming. Work with it or live with the results."
LOL! Prior to the introduction of the AWB legislation in 1994, demand for the firearms that became the subject of the ban was relatively light. The public's interest was piqued, and sales skyrocketed, directly as a result of the law. These firearms had almost no statistical representation in crimes, which the

National Institute of Justice admitted 2 years later

, and interest in them grew both before the ban and after it was enacted. One of the unintended consequences of the law was that these firearms that had had a small role at the fringes of the marketplace were suddenly desired by millions.

The assault weapons ban didn't reduce the number of military-style semi-automatic firearms. It greatly increased their numbers, their public acceptance, and had the effect of mainstreaming them, "pre-ban" rifles and cosmetically de-enhanced "post-ban" rifles alike. Thanks to the "ban," AR-15 pattern rifles are now among the most popular rifles in America, and have been mainstreamed even among the change-resistant hunting fraternity as "

modern sporting rifles

."

As I have said -- REPEATEDLY -- the murder rate is LOWER NOW than it was during ANY YEAR that the AWB WAS IN EFFECT.
The "results" are unintended consequences that seem to do more harm to your cause than good.
"President Barack Obama > Wayne LaPierre"
Otis McDonald > President Barack Obama
Game. Set. Match.

Janie's Got A Gun - Aerosmith


Dum, dum, dum, honey what have you done?
Dum, dum, dum it's the sound of my gun.
Dum, dum, dum, honey what have you done?
Dum, dum, dum it's the sound
Janie's got a gun
Janie's got a gun
Her whole world's come undone
From lookin' straight at the sun
What did her daddy do?
What did he put you through?
They said when Janie was arrested
they found him underneath a train
But man, he had it comin' Now that Janie's got a gun
she ain't never gonna be the same.
Janie's got a gun
Janie's got a gun
Her dog day's just begun
Now everybody is on the run
Tell me now it's untrue.
What did her daddy do?
He jacked a little bitty baby
The man has got to be insane
They say the spell that he was under the lightning and the
thunder knew that someone had to stop the rain
Run away, run away from the pain yeah, yeah yeah yeah
Run away run away from the pain yeah yeah
yeah yeah yeah yeah yeah
Run away, run away, run, run away
Janie's got a gun
Janie's got a gun
Her dog day's just begun
Now everybody is on the run
What did her daddy do?
It's Janie's last I.O.U.
She had to take him down easy and put a bullet in his brain
She said 'cause nobody believes me. The man was such a sleeze.
He ain't never gonna be the same.
Run away, run away from the pain yeah, yeah
yeah yeah yeah
Run away run away from the pain yeah yeah
yeah yeah yeah yeah yeah
Run away, run away, run, run away
Janie's got a gun
Janie's got a gun
Janie's got a gun
Everybody is on the run
Janie's got a gun
Her dog day's just begun
Now everybody is on the run
Because Janie's got a gun
Janie's got a gun
Her dog day's just begun
Now everybody is on the run
Janie's got a gun